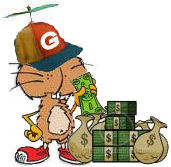 The "Premier" GopherXpress Franchise is now open to proudly service the Halifax, Dartmouth, Fairview, Spryfield, Bedford & Sackville areas, let us earn your business...
Need Something Picked Up..PRONTO ?
Simply call the merchant you wish to deal with, place your order and instruct the merchant to call GopherXpress at (902) 000-000 for pickup and delivery to your destination.
You may pay the merchant directly via acceptable debit or credit card or pay COD when your order arrives by one of our courteous staff, it's that easy.
You may also fill in the "EZ-Shopping" form below and have GopherXpress as your "Personal Assistant" tend to those time consuming chores for you.
GopherXpress Pickup & Delivery Rates
NOTE: Beer & Wines only delivered in Provinces where it is legal to do so.