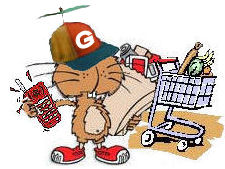 Let Us Handle That Shopping List For You
Next time you need a gift picked up, your cleaning picked up, groceries for a last minute dinner, a shirt from the mall, or any other time consuming errand completed, you can count on our customer support team and GopherXpress to save you time and money! It's simple really - you either call your order directly into a store of your choice, or have our helpful staff assist you…
Receive for Delivery
If you fear shipping something you ordered to your home and not have someone there to sign for it… just call GopherXpress next time! Here's what we have done to solve this big problem for you. And, or if you have purchased something that needs to be signed for by someone when shipped to your home, simply have your delivery sent to GopherXpress and we will sign for package and then promptly deliver to you that evening, it's that simple!
On Demand Courier
We can provide you with 24 hour a day, 7 day a week courier/messenger services for the right price every time! GopherXpress staff are ready to go at a moment's notice to pick up and deliver your letters, packages, boxes, parcels and heavy freight. From a small car, to a bicycle messenger to one of our box trucks… we've got you covered 24/7, including nights, weekends and holidays! Have a package coming into the airport tonite at 11pm and need it delivered to your office the next morning? Have no fear, GopherXpress is on your team… we'll pick up your package, hold in our office, and then deliver to you first thing in the morning!
Here's the 2 excellent services we provide!
GopherXpress Rush! - (RATES) - If your package has to be there right now, and on a rush basis, use this service! We will in most cases pick up in 45 minutes or less and deliver in 45 minutes or less… we are ready right now, call GopherXpress today!

Econo Delivery - (Rates) - We will pick-up and deliver anywhere in HRM area in 4 hours or less. Most deliveries will be completed in around 2 hours. Use this service if your package or parcel is not too time sensitive, if it is a "rush", use our GopherXpress rush Service.

Special offers by GopherXpress !

If you call us on a Monday or Tuesday, receive a special discount of 5%! And, if it's between 7:30a-11:00a when you call, receive an additional 5%!

Save 5% when you pay with cash… but have no fear, you can still save 3% off your order by paying with AMEX/Visa/MC!

Become A Member Today